A team of first year undergraduate architecture students from the University of Cambridge have been working with Cambridge homeless charity the Cyrenians to redevelop their allotment site.
A team of first year architecture students from the University of Cambridge have been hard at work with homeless charity the Cambridge Cyrenians to redevelop spaces within the charity's community allotment site.
The team of students, many of whom only started studying at Cambridge in October, have been working under the directorship of their tutor, Mark Smith, director of MARK Architecture, Landscape and Urban Design, to develop six new facilities for the Cyrenians' allotment space: A brand new tool shed including rainwater collecting roof, a bike storage space, a market stall, a bird and bug "hotel" made from chestnut logs, a secluded area for contemplative reflection and a social space for allotment users to sit and enjoy a well-earned cuppa.
Everything has been made from found materials and was designed, planned and built by the students themselves within eight weeks.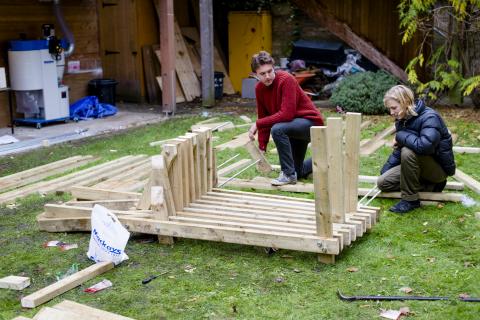 The Cambridge Cyrenians are a local homeless charity set up as an alternative to traditional homeless hostels. They offer a range of accommodation, support and specialist services to homeless people in Cambridge. The allotment project has been designed by Horticultural Therapist Ruth Nicholls, and offers a meaningful activity for homeless people, helping to provide training, improve physical and mental health and develop new skills.
The allotment grows fruit and veg that participants can take away, and are also donated to other homeless shelters and sold at local fairs. The new development project "Growing Space" designed and built by Cambridge architecture students, will enable the Cyrenians' allotment to become a community hub for homeless people and provide a space to socialise, relax and work.
Project lead Mark Smith said: "As teachers of architecture we believe in projects that are set in and engaged with the real world. Why spend five years working on theoretical projects when you could be involved with developing and building designs with exciting organisations like the Cyrenians? Our students have built their first buildings in term one, year one; as well as acting as architects and designers the students are engineers, project managers, fund raisers, quantity surveyors, scavengers, therapists, motivational speakers and, most importantly, builders and makers."
Architecture student Elise Limon, who worked on the "Growing Space" project, said: "Being thrown into such a demanding project on the first day of arriving at University was challenging to say the least! Although the prospect of what we had to achieve was intimidating, it was also motivating, exciting and inspiring. We all worked very hard, getting to the allotment as early as possible for maximum building time, to produce what we knew was going to have a really good impact on the daily activities of the charity."
"The project has enabled us to see the importance of balancing creativity with rationality and functionality in the design of an architectural project", Elise continued. "It has instilled in us a sense of the social responsibility of an architect, which is something that has positively impacted on the way we approach our design briefs in the future. Plus it was really, really fun!"
Ruth Nicholls, Co-ordinator of the allotment project for the Cambridge Cyrenians, said: "The Cambridge Cyrenians Allotment Project works with local homeless people and runs on a therapeutic horticulture model across five full-sized allotment plots in the city. It provides specific horticulture training, supported work experience and a safe social environment for some of the most disadvantaged people in the city. The team thoroughly enjoyed working on the architecture projects with the first year students and are already making good use of the six completed working spaces."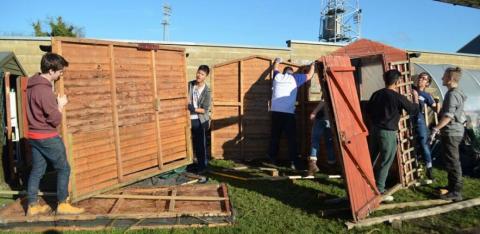 The project was made possible thanks to donations from: Karakusevic Carson Architects; Mackays of Cambridge; Travis Perkins; Mole Architects; Fielden Clegg Bradley Architects; Caroe Architects; Cambridge Homeless Outreach Programme (CHOP); Combicat Ltd; A C Services (Southern) Ltd; Onduline Ltd; Rob Watkins Tree Surgery; and Rainclear Systems.
The "Growing Space" website is at www.markprojects.co.uk. More information can be found at www.crowdfunder.co.uk/growingspace. Information on the Cambridge Cyrenians and the allotment project is available at www.cambridgecyrenians.org.uk.
Read More: