Healthcare company LycaHealth have donated £50,000 to the University of Cambridge Language Centre to support the teaching of Sri Lankan languages.
LycaHealth, described as "the new healthcare brand", have presented a donation of £50,000 to the University of Cambridge Language Centre to support the teaching of Sri Lankan languages to students, academics and staff at the University.
The donation, together with a further donation of £100,000 to the University for the improvement of public healthcare in Sri Lanka via the Sri Lankan Heart Infarction and Neurological Event Study (SHINES), will support the Lyca Group's mission to "bring together people from all different backgrounds and be a part of the fabric of communities in which they have a presence".
The donation to the Language Centre will enable the University of Cambridge to establish a dedicated Sri Lankan language scheme for a five-year period. The scheme will include intensive full-time summer language courses as well as part-time "in-session" programmes.
Jocelyn Wyburd, Director of the University of Cambridge Language Centre, said:
"I was fortunate enough to have the chance to visit Sri Lanka last summer for the first time, and loved it! I'm therefore all the more excited about this relationship with LycaHealth and to have the chance to promote Sri Lanka's languages and an interest in the country and its culture to others at Cambridge".
The University's Language Centre provides resources and courses to support language learning by all members of the University community, including staff, students, researchers and academics. It stocks learning resources in 170 languages, including the two major Sri Lankan languages, Tamil and Sinhala. The Language Centre offers supported self-study of these languages as well as taught courses, as individuals might require.
"The Sri Lankan language fund will enable us to expand our provision, promoting the learning of Sri Lankan languages, not least to those who might be engaged in fieldwork and research in Sri Lanka as part of the accompanying public health initiative", Jocelyn said.
"We will also be able to engage further with Sri Lankan students at Cambridge to support face to face and online language learning, and provide financial support to Sri Lankan students who wish to develop their academic skills in English".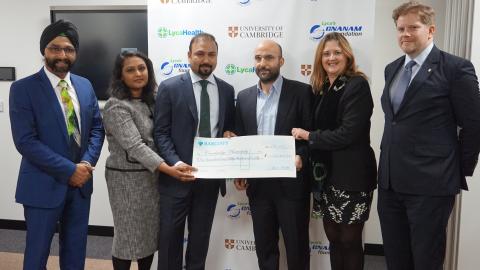 Representatives of LycaHealth present a cheque to Jocelyn Wyburd (2nd right), Director of the Cambridge University Language Centre
Prema Subaskaran, Chair of LycaHealth, said: "We are delighted to be making these donations to such a reputable University as Cambridge, to implement study on these worthwhile causes. This investment mirrors our ethos of expanding the importance of healthcare across the globe whilst bringing together people from all types of backgrounds".
The donation comes soon after LycaHealth's first centre was opened in London, at Canary Wharf. Further centres are planned to open around the UK, South Asia and Africa over the next five years.
Cambridge's current £2 billion fundraising campaign focuses on the University's impact to the world. The University will work with philanthropists from all backgrounds and all academic disciplines to address major global challenges, as it has done over the course of its history. Over £590 million has already been raised, with over 30,000 donors contributing to the campaign.
For more information on the University of Cambridge Language Centre, see http://www.langcen.cam.ac.uk.
For more information on the University's fundraising campaign, see https://www.philanthropy.cam.ac.uk/.
For more information on LycaHealth, see http://lycahealth.com/. 
Read more: